Dr. Christopher Hugon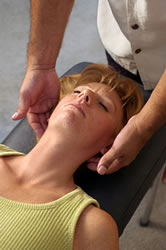 Dr. Christopher Hugon provides quality chiropractic care and physiotherapy to patients in Beaverton, OR. Whether you're searching for effective pain relief or a way to boost whole body wellness, Murrayhill Chiropractic Center can help.
We also provide massage therapy services with our Licensed Massage Therapists, Nina Haluko and Maddie Vogt, which are covered under auto injury insurance (PIP).
In the event of need for further specialized testing and or treatment, Dr. Hugon will refer injured patients for MRI testing and subsequent specialized interventions and or consultations with Medical Specialists with whom he has long standing professional relationships.
Call our office at (503) 590-4000 for an appointment today!